We help clients buy,
sell and manage all
types of properties:

Facilities Management Services
"Serving Chicagoland and Suburban areas for over 100 years!
Berkson & Sons, Ltd is always looking for new opportunities to manage all types of properties. Our experience in dealing with commercial and residential properties gives us the "know how" to maintain your facility while minimizing the potential for loss.
We are proud to announce we presently manage 26 Currency Exchange facilities across Illinois! So, no matter if your a private company or an institution, contact Berkson and Sons for more information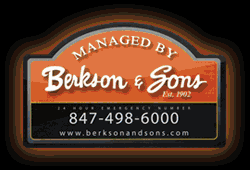 on how your facility can run at it's best!
We welcome:
Homeowners Associations
Banks
Commercial Properties

Industrial
Office
Retail
Residential
Berkson & Sons, Ltd's ability to develop and execute effective management plans, coupled with proven income/expense control and analysis has translated into above average tenant occupancy.
Monthly Expense Reporting
Efficient, Trackable Billing
Budget Preparation
Preventative Maintenance
Real Estate Workouts
So, if you are a Homeowners Association to Commercial Properties (Industiral, Office or Retail), contact Berkson & Sons, Ltd for more details.
Currency Exchange Locations
1400 Jefferson St, Joliet, IL
360 N Chicago, Joliet, IL
2840 Plainfield Rd, Joliet, IL
1701 N Larkin, Crest Hill, IL
615 Access Dr, Romeoville, IL
135th & Weber Rd, Romeoville, IL
275 S Bolingbrook Dr, Bolingbrook, IL
110 W Boughton Rd, Bolingbrook, IL
7068 N Mannheim, Rosemont, IL
440 N Lake St, Mundelein, IL
1315 N Lewis Ave, Waukegan, IL
1938 W North Ave, Chicago, IL
5739 S Harlem, Chicago, IL
8725 S Harlem Ave, Bridgeview, IL
15690 S Harlem Ave, Tinley Park, IL
8009 W 79th St, Justice, IL
9524 S Cicero Ave, Oak Lawn, IL
6326 W 95th, Oak Lawn, IL
601 Mannheim Rd, Bellwood, IL
1726 W Roosevelt Rd, Broadview, IL
6936 W Cermak Rd, Berwyn, IL
1135 S Harlem Ave, Forest Park, IL
2225 W North Ave, Melrose Park, IL