We help clients buy,
sell and manage all
types of properties:
Welcome to Berkson & Sons, Ltd.
A full-service Illinois Licensed Realtor specializing in Office, Retail, & Industrial properties since 1902. We offer management, leasing/sales, consulting, and receivership/disposition services, providing a one-stop shop for homeowner/condo associations, private investors and institutions. Our expertise covers all facility and asset-related issues that may arise from construction, maintenance/repairs, remodeling, repositioning, development, accounting and any institutional, private and tenant/homeowner related functions. Berkson & Sons › About Us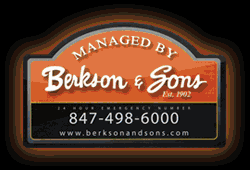 Full-Service Brokers

Berkson & Sons, Ltd. has dealt heavily in brokerage since David Berkson's grandfather founded the company in 1902. He also was one of the founders of the Chicago Real Estate Board.

We have had over 100 years of experience in this business dealing with the brokerage of commercial, industrial and retail properties. We have represented such companies as General Motors, Ford Motor Company, Principal Financial Group, Allstate Insurance, Jewel, Pittway, Canada Life and Shell Oil Company, to name just a few.

Real Estate Consultants

Berkson & Sons, Ltd. has been involved with some of the most significant projects that have impacted the Chicagoland Real Estate Market during the last century.

We offer full service consultation to assist your company in developing and implementing business solutions for the challenges of this fast paced new economy. Click on any of the links for more information.

Full-Service Management

We have an extremely aggressive approach in the management of all of our properties. Let us use it to your advantage

We provide institutional, private investors, and homeowners with the most comprehensive, cost-effective management programs in the industry.

We also believe our thorough management planning, time-proven operating procedures and, above all, our associates have set the highest standards by which others are judged.